Which PCB software should you choose? – Selection Criteria and Available Options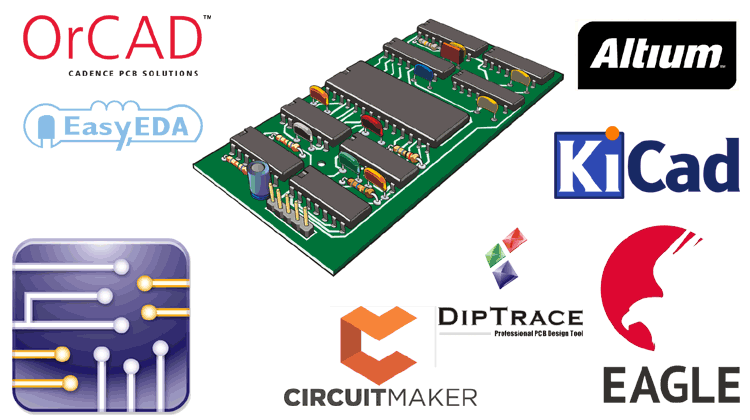 Printed circuit boards (PCBs) have become a vital part of any electronics product/design development cycle.
Today, dozens of PCB design software can be found in the market with familiarity and cost being the main distinguishing factor between them among other subtle differences. In this article, we will look into the parameters that one has to consider for selecting PCB design software and compare these parameters among the most commonly used PCB Design Software.
Before we proceed any further, you need to know that the details discussed in this article are written from personnel experience with no intention to rank the PCB software on any basis. Use the information provided here as a guide to select the software for your needs. Without further ado let's get into the topic.
PCB Design Software selection Parameters
Irrespective of any PCB design requirements few vital parameters have to be checked with any PCB design software. Again there is no hardcore rule as of which parameter is of more important, for example, a corporate engineer or enterprise's requirement will be a lot different from that of a freelancer or a hobbyist. With that in mind let's look into selection parameters:
Popularity /Community support: The popularity of the software is important because the more popular software is the more community support it will have. This makes the software easy to use and is also it also makes it easy to get help online. For a long time now, software like Eagle, Altium, and Orcad are dominating the PCB design industry and hence they are more popular compared to the other recent software. But with more open-source software coming in this scenario is slowly changing.
Learning Curve: There is no point in selecting Powerful PCB software when it is hard to learn and use it. Software like KiCad, DipTrace, and EasyEDA are the winner here with a very short learning curve, meaning it is easy to learn and start using them. This parameter is important especially for corporate who have to train their employees faster to make them work-ready.
Features: When it comes to features present in a PCB design software there is never enough. The most vital features will be present in almost every software but few other features like 3D view, auto-routing, Panelizing, stencil generation, etc will from software to software. Since the requirement varies from designer to designer there is no clear winner in this section.
Large component libraries: Design software with a huge component library will surely make the life of the designer easy. It saves the time of creating a footprint of every new/peculiar component on the board since you easily get the footprint of components from its library. Normally the popular and old software will have huge libraries. Online software like EasyEDA solves this problem by allowing you to use the footprints created by other designers on its platform. This way you are more likely to find your component's footprint if someone has used it in their designs.
Standard in the market:  PCB design software with the high standard will be an advantage when trying to get the design product approved or through other PCB certification process. Software like Altium and Eagle has a high standard in the market and is widely used.
Schematic/Simulation: Earlier days the PCB design software was only limited to schematics and board design. But today the recent software is also getting into a simulation of the circuit to make sure everything works before proceeding with the board. A clear winner here ISIS Proteus which provides simulation results on basic analog and embedded circuits.
Price: Finally it all boils down to this point. Software like KiCad, EasyEDA, etc is available as an open-source making it a good choice for hobbyists or beginners. For small enterprises or Tech entrepreneurs software like Eagle are available in a monthly subscription, it can be used for a defined amount of month which will be cheaper compared to purchasing the whole package. Software like Altium is very expensive for its performance history and reliability, preferable for corporate. 
Commonly used PCB Design Software
There are many PCB design software with each one having its unique pros and cons. Here I would like to provide some basic details of the most commonly used design software. Again the list is of no particular order or rank. 
Eagle
EAGLE is one of the most popular PCB design software. Its name EAGLE is an acronym which stands for Easily Applicable Graphical Layout Editor and was developed by CadSoft Computer before it was recently acquired by Autodesk.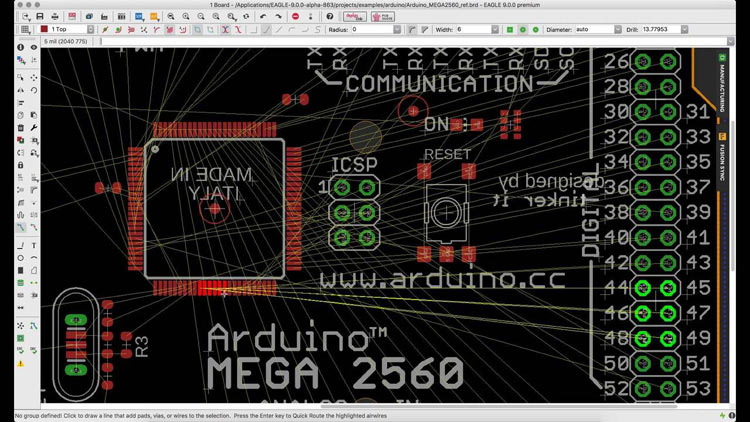 It provides an easy to use intuitive interface which allows new users to design their first PCB in hours and with features like back annotation, it allows changes in the schematics to be easily effected in the PCB. Its popularity also increases the access to support and component footprints that have been created by others which reduces the development time significantly. One of the downsides to Eagle used to be its lack of 3D visualization, but that has been solved with the recent acquisition by Autodesk as it now has a 3D viewer. While Eagle has a free version with a few limitations, users will have to pay subscription/license fees to use the full version. The cost of this is why most users turn to other software.
Altium Designer
Altium is another premium schematics and PCB design software. Developed by Australian software company Altium Limited, it is one of the most popular PCB design tools among core professionals.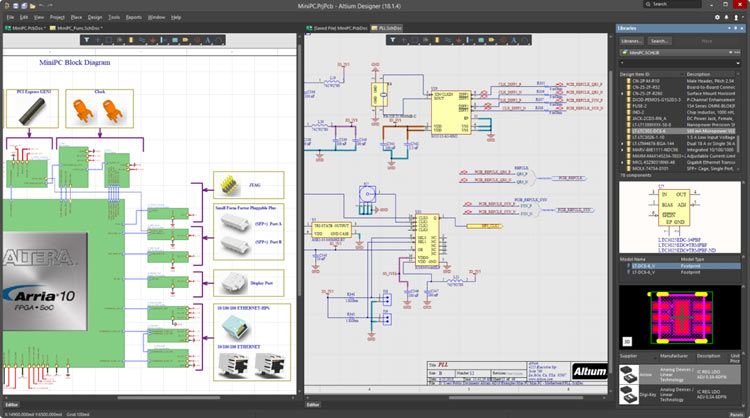 Its main features are the schematic capture, 3D PCB design, FPGA development and release/data management features incorporated in the software. It was one of the first software to offer 3D visualization and clearance checking of PCB directly from PCB editor. A license to use this software is mandatory and hence it limited its popularity and usage.
ORCAD
ORCAD is another age-old PCB Design Software from 1980. Obviously, it has been constantly updated over these years and has improved a lot on its user's face.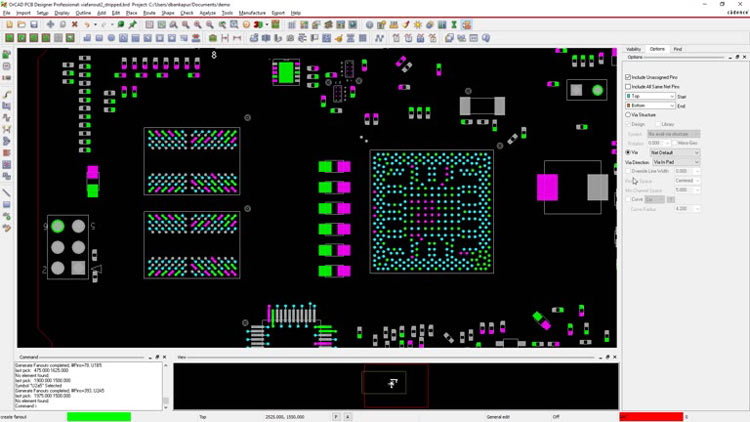 The software features are very similar to Altium and the price is also the higher end as that of Altium. ORCAD is available only for windows and hence does not support cross-platform.
DipTrace
DipTrace is another promising, affordable and features rich PCB design software. The software is available on many different packages and hence is easy to purchase and upgrade later if needed.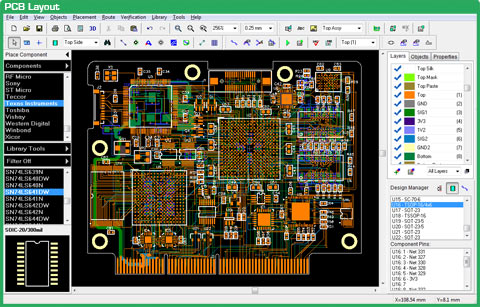 The software has all basic features like auto-routing, 3D view, STEP export, etc. It is commonly preferred for its price and easy to use nature.
KiCad
KiCad is the most popular open-source PCB design software originally developed by Jean-Pierre charras. It is one of the software they give users the ability to manipulate how their PCB design is done, given the freedom to select different PCB package for each component used in the schematics.
Some of the features of the software include tools to generate BoM (Bill of Material), artwork and 3D view of the PCB. Many components are available in the library of this software and some features allow the user to add their custom components. The software is continually being improved due to the open-source nature and provides a lot of support for new users via its large community.
Multisim
Multisim is also very powerful and easy learning PCB design software. Which is originally developed by Electronics Workbench and now it is a division of National Instruments (NI).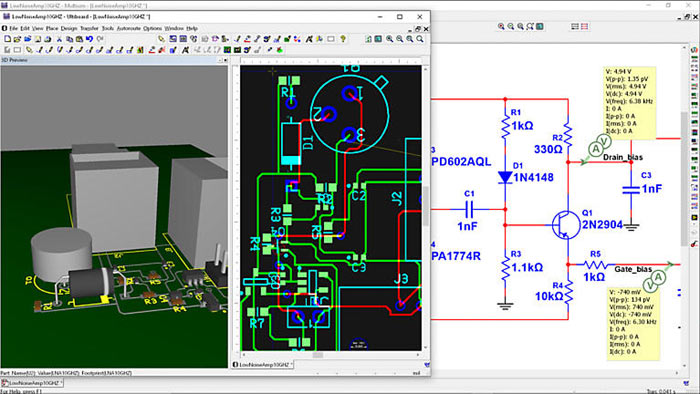 Its distinct features include microcontroller simulation (MultiMCU) and integrated import-export features to the PCB layout software. This software is widely used in academic and also in the industry for circuit education.
Proteus
Proteus is a software that is quite similar to multisim. Developed by LabCenter, It has features that make creating schematics and transforming them to PCB very easy.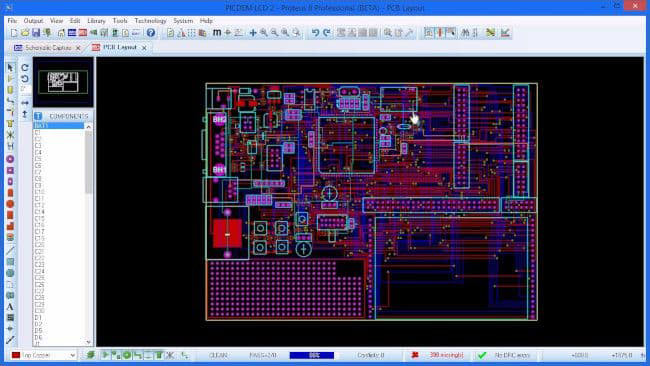 It also comes with extensive simulation capabilities that allow users to upload code to dummy microcontrollers and test before creating their PCBs. Like Multisim, it is popular in academic settings and widely used for teaching hardware design.
EasyEDA
EasyEDA is an online open-source PCB design software used in the design and simulation of circuits. This software is an integrated tool for schematic capture and SPICE circuit simulation, based on Ngspice and PCB layout.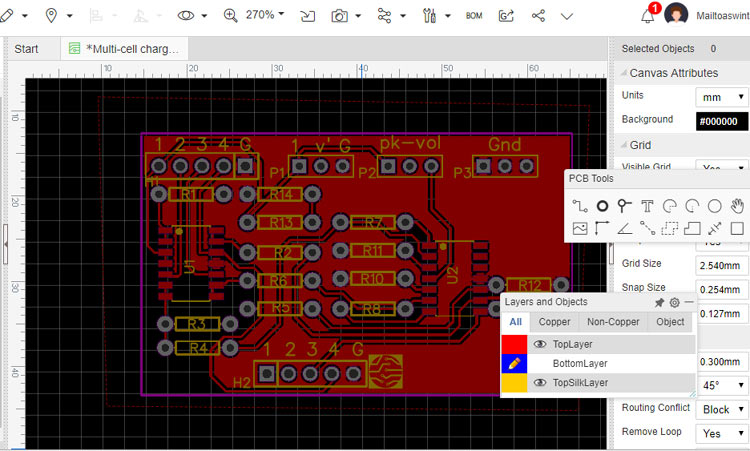 A most important advantage of this software is its web-based nature, which means it is independent of the user's operating system.
CircuitMaker
Also developed by Altium, CircuitMaker provides a Schematic editor which includes basic component placement and is used to design advanced multichannel and hierarchical schematics.
All schematic is uploaded to the server and these files are available to view by registered users/team members. It is one of the best collaboration tools around circuit design.
That's it for the first part of the series. There are many worth mentioning Design software like ExpressPCB, DesignSpark, PCBWeb, etc. So feel free to research them on your own. For the next part, we will pick one of these software and learn how it can be used to create PCBs. Feel free to reach out to me via the comment section with questions and general comments on any specific part of the PCB design process you'd like me to talk about.
Till Next time.